Before we answer why some of Philippine Airlines Airbus A340s had French registrations, let's first look at Philippine Airlines and see how it came to be. Philippine Airlines (PAL) was founded on February 26, 1941, by the Philippine Aerial Taxi Company, a shuttle service that flew from Manila to Baguio and Paracale during the 1930s.
Following World War Two's end and Japan's surrender on September 2, 1945, PAL became one of Asia's most prominent airlines. By the 1980s, The airline was operating daily flights from what is now Ninoy Aquino International Airport (MNL) to the following airports in Europe:
Amsterdam Airport Schiphol (AMS) in the Netherlands
Athens International Airport (ATH) in Greece
Frankfurt Airport (FRA) in Germany
London Gatwick Airport (LGW) in the United Kingdom
Leonardo da Vinci International Airport (FCO) in Rome, Italy
Philippine Airlines entered receivership
In 1997 at the height of the Asian financial crisis, Philippine Airlines stock collapsed, leading to one of the most significant corporate failures in Philippine history. Now forced to downsize, PAL dramatically stopped all of its international and domestic flights except domestic flights to and from Manila. The airline was placed under receivership in 1998 and did not emerge until 2007.
About the Airbus A340
During the 1970s, to compete with Boeing and Douglas (later McDonnell Douglas), European planemaker Airbus came up with a widebody plane called the Airbus A300. The idea was to use the A300 concept and develop other aircraft. At the time, Extended-range Twin-engine Operations Performance Standards (ETOPS) only allowed for a twin-engine plane to fly over water 90 minutes from an airport where it could safely land.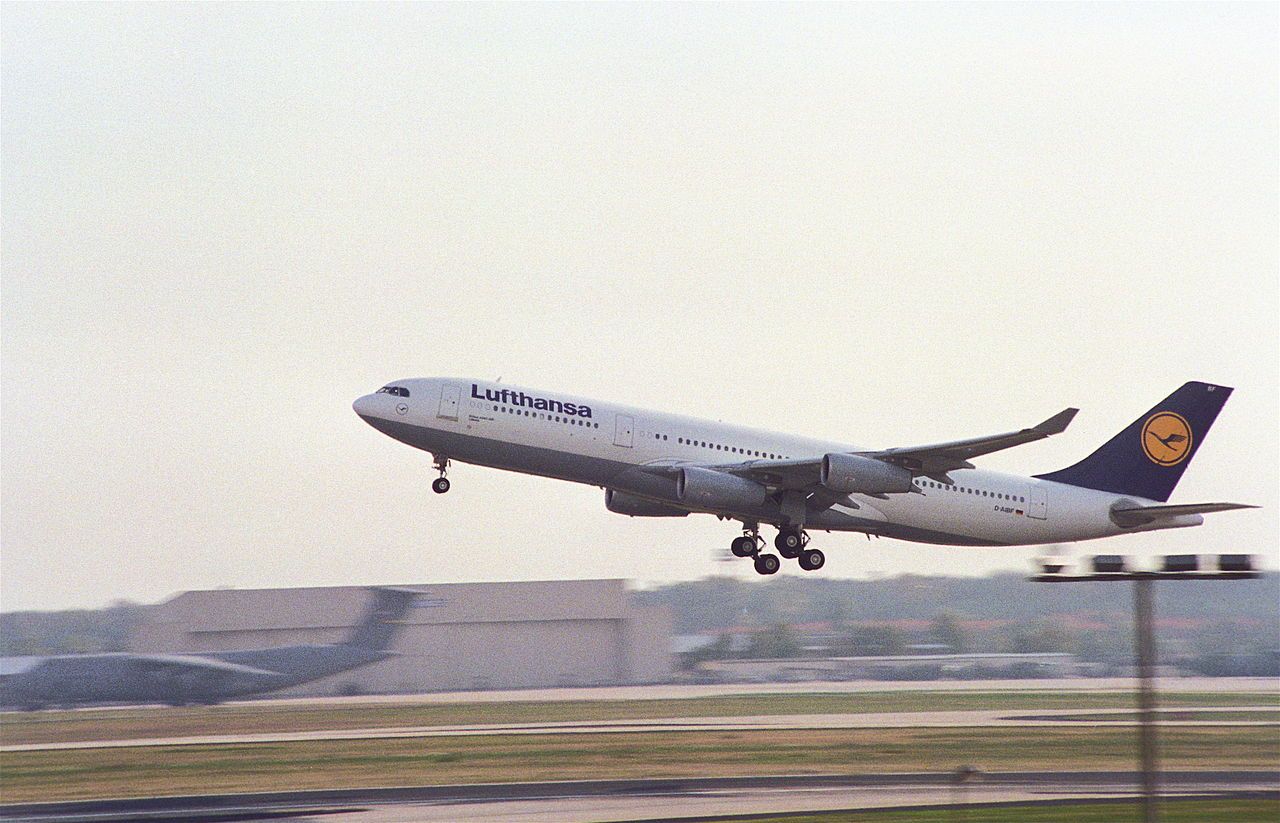 In 1985 the Federal Aviation Administration (FAA) increased ETOPS to 120 minutes before raising it again to 180 minutes in 1988. By then, Airbus was already committed to building a four-engined aircraft called the "Airbus A340." The Airbus A340 made its maiden flight on October 25, 1991, before entering service with German national flag carrier Lufthansa and French national flag carrier Air France in March 1993.
Philippine Airlines Airbus A340s
Between 1996 and 2019, Philippine Airlines had 18 Airbus A340 aircraft in its fleet.
Airbus A340-200s
The first plane to arrive was a two-year-old Airbus A340-200 from Cathay Pacific with the registration F-OHPF in 1996. F-OHPG arrived in January 1997, followed by F-OHPH in February and F-OHPI in March.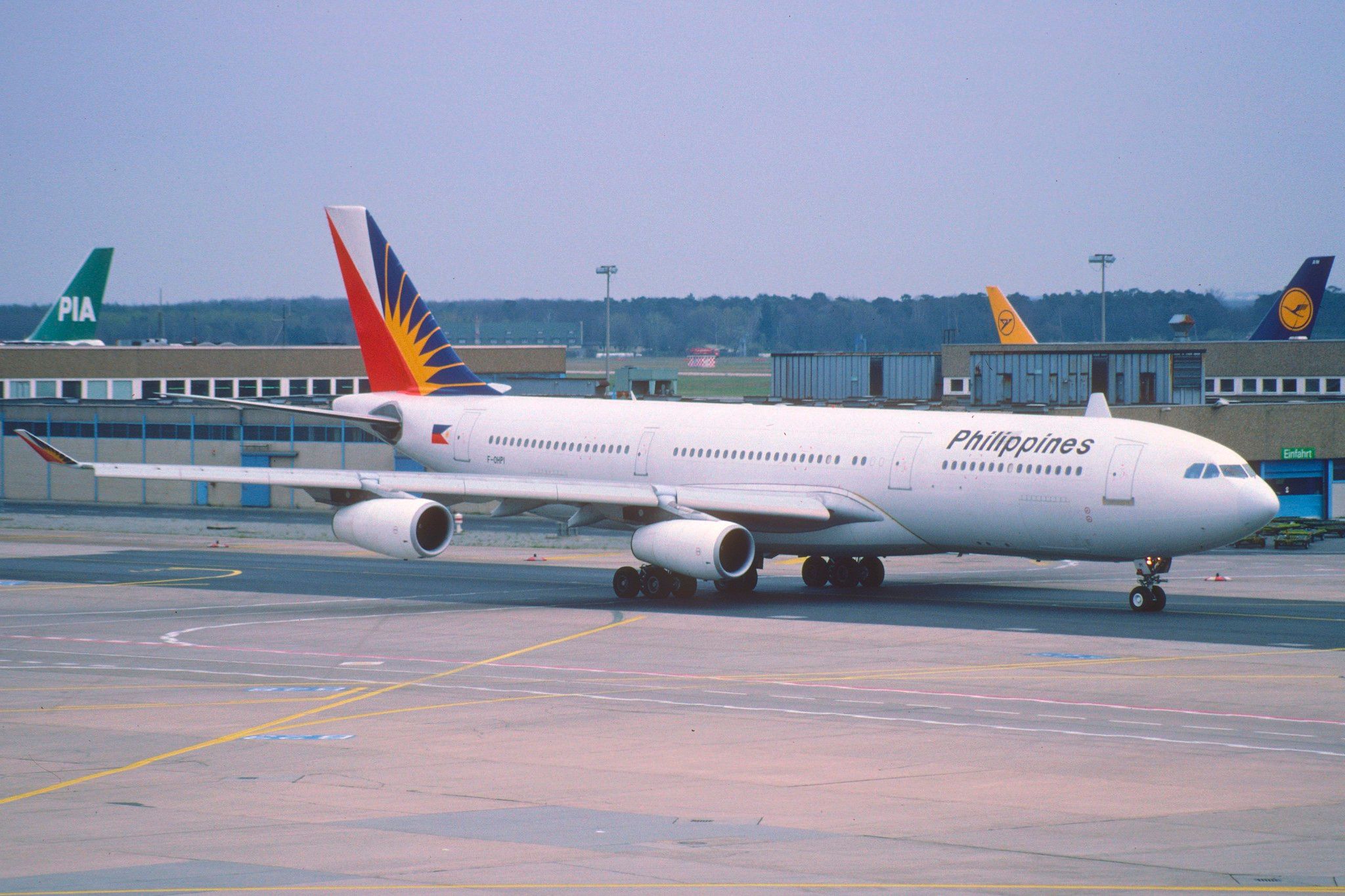 All planes registered on the French Civil Aircraft Register have the letter "F" at the beginning of the number, while all aircraft registered in the Philippines have the prefix "RP." Philippine Airlines did not receive any Airbus A340-300s until 2008, a year after being removed from receivership. All of these planes were registered in the Philippines.
About the French registered planes
The reason why earlier Philippine Airlines Airbus A340s were registered in France was so that the company leasing the plane to Philippine Airlines could repossess it if the airline failed to make payments. Under Philippine laws at the time, it was nearly impossible to get the aircraft back if Philippine Airlines defaulted on their lease or bank payment.
When the airline entered receivership, the foreign registered aircraft could also not be impounded or sold by the Philippines Securities and Exchange Commission (SEC). Because of this, in 2008, the Philippines government required that all aircraft belonging to Philippine-owned airlines be registered in the Philippines.