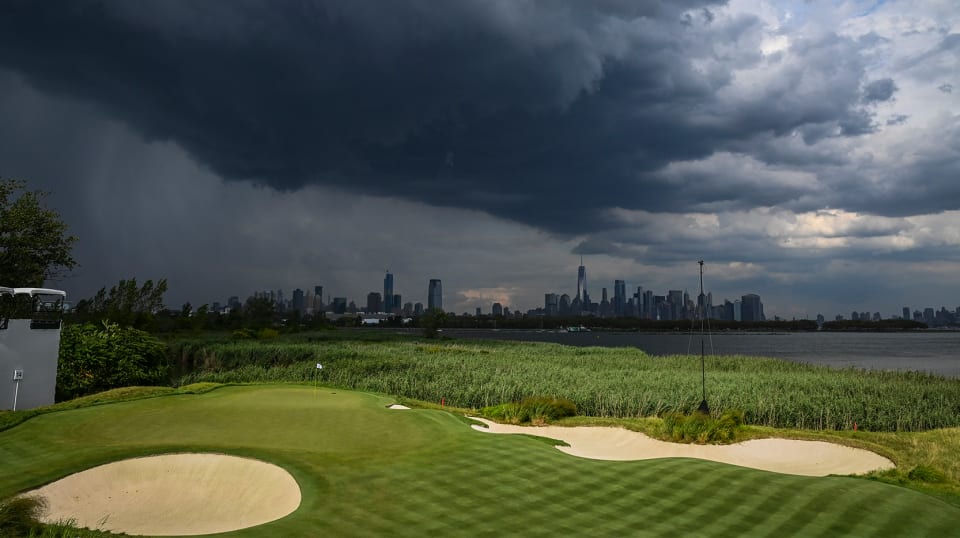 Tropical Storm Henri being monitored by PGA TOUR
PGA TOUR officials plan to continue play at THE NORTHERN TRUST on Saturday at Liberty National in New Jersey but they are closely monitoring Tropical Storm Henri in relation to Sunday's scheduled final round.
With the National Hurricane Center issuing a hurricane watch for the Northeast United States on Friday morning, TOUR officials will have contingency plans in place for the completion of the opening FedExCup Playoff event.
"Strengthening is forecast during the next couple of days, and Henri is expected to become a hurricane by Saturday and be at or near hurricane strength when it makes landfall in southern New England," the NHC said in a statement.
The TOUR said a Monday finish is an option with the current forecasts.
"We are closely monitoring Tropical Storm Henri and its potential impacts on THE NORTHERN TRUST. There is no impact from the storm on Saturday's forecast, and therefore play will be as scheduled in twosomes from the 1st tee with a 6 p.m. scheduled local finish time," the PGA TOUR said via statement.
"We will evaluate the track of Henri throughout the day tomorrow and expect to issue the plan and schedule for the final round by late afternoon Saturday. Henri is not currently predicted to have any effect on the forecast for Monday. Depending on the forecasted track of the storm, it is possible that the final round may be rescheduled for Monday."