Estimated read time: 4-5 minutes
As the weather is beginning to cool, you're probably considering your next warm climate getaway to sunny Southern Utah. Many Utahns make frequent trips to the St. George area but are increasingly weary of paying expensive nightly rental prices every time you take the family down. No doubt you've thought to yourself, "wouldn't it be great if we just owned our own vacation home here"? But who has the time or money to own an entire second home all to yourself? Very few.
If there were a way to just own a portion of the home and use it for part of the time, that would be ideal. Then your ownership could match your availability and your budget. It would be even better if you could rent out the house when you can't use your time.
Ember, a new startup based in Lehi, Utah, is solving this problem through vacation home co-ownership.
⅛ of the home, 100% of the experience
Historically, not everyone could afford a vacation home—especially in top destinations like St. George, or Bear Lake. And even for families that could commit to a vacation property, research shows that they are only using the home for two to six weeks out of the year.
With Ember's co-ownership model, you can choose to buy a portion of a luxury vacation home, instead of the whole thing—and only pay a fraction of the cost. The ownership of each Ember home is divided into eight equal parts. Co-owners get 6+ weeks for each 1/8th share they purchase. Owners looking for maximum time can buy even more of the home. Ember features properties for as low as $103k per 1/8th ownership.
Make memories while you're there, rent it out when you're not
Each buyer enjoys exclusive access to the home during their stays and with "Ember Flex" designated homes, they can rent out their time when they don't plan to use it personally. Plans change. Life circumstances change. 6 weeks might be just enough in a given year and too much the next. Having the flexibility to simply rent out your nights and not worry about the home sitting vacant, delivers incredible peace of mind. It's the best of both worlds.
Ember's SmartDraft™ technology ensures each owner gets their fair share of desirable nights each year. It's easy to swap nights with other owners or change your plans throughout the year using Ember's intuitive mobile app.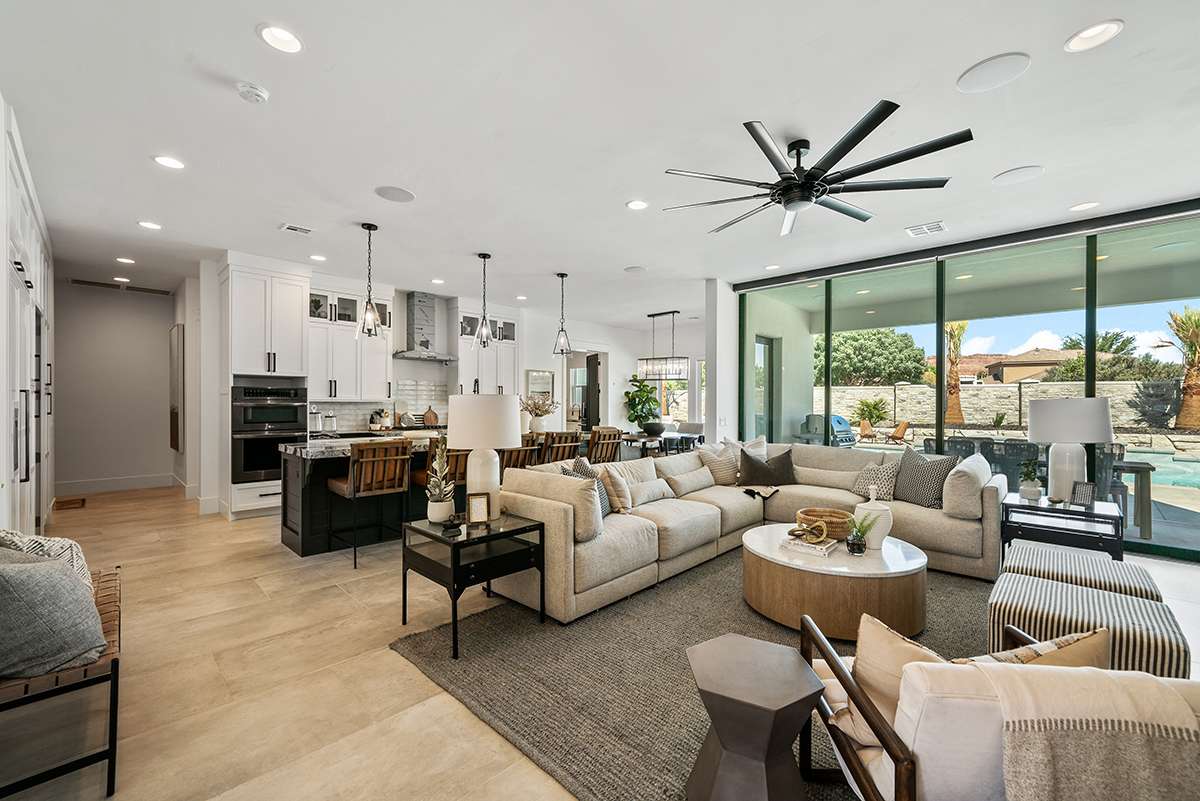 Ember sweats the details so you don't have to
Ember's innovative approach to vacation homeownership promises a five-star experience from start to finish—free from hassle and disappointment. Each home is professionally designed and comfortably furnished so you can simply show up and instantly enjoy your home. A 24-hour property concierge is available for any issues that may arise. Need a few extra home supplies? Did you lock yourself out? The on-call concierge will be there in minutes.
With Ember, their commitment to your experience continues even after you leave. They maintain your vacation home so you don't have to worry about it. The home is cleaned, the linens are washed, the lawn is mowed, and the pool is maintained so the property is turnkey ready for your next stay.
Where luxury meets logic
But the biggest benefit to co-owning a premium vacation home in a rapidly growing market like St. George is building equity. Ember homes appreciate in value just like other properties on the market. Unlike a timeshare, Ember homes are owned by their co-owners in an LLC structure. Should you decide to sell your portion down the road, you name the price and capture any potential appreciation. The process is simple and Ember handles the details of reselling your ownership and handling the closing process.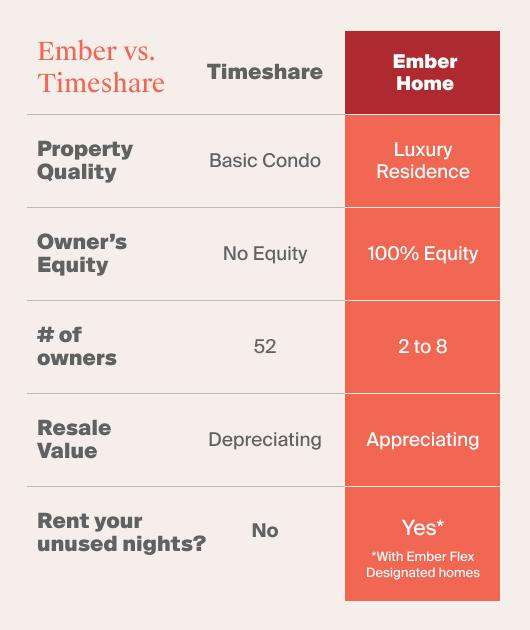 With Ember, you're paying yourself to go on vacation, which is impossible when staying at someone else's Airbnb or VRBO. On top of that, because you own a minimum of 13% of the house (1/8th), your costs are offset by 87% thanks to the other co-owners. And with potential rental revenue and future appreciation, the gains offset your costs even more.
Ultimately, Ember's co-ownership model was designed for one thing: to help more families enjoy hassle-free vacations in beautiful homes—that they truly own. Start by browsing our available St George properties and find the perfect vacation home for you. Then talk with an Ember advisor to get all your questions answered and finalize your purchase. You'll be able to book your first stays and arrive at your Ember home in as little as 24 hours. From there, it's all about making memories that you'll cherish forever with the people you love.
Ember Advisors are available for call or chat from 7 a.m.-11 p.m. Mountain Time. 1-800-366-6891
×
More stories you may be interested in