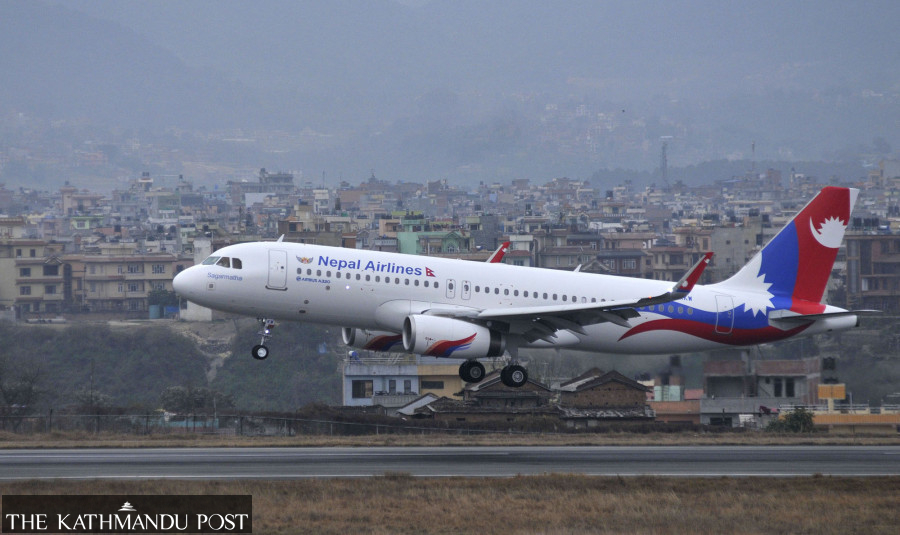 Price of plane ticket to Delhi reaches Rs50,000
Demand for tickets on the Kathmandu-Delhi route has been going off the charts, and airfares are soaring accordingly. The price of a seat on a flight to Delhi has reached Rs50,000, almost six times the normal cost.
Travel agencies and airlines say tickets have become costlier because flights between the two neighbours have not been increased despite a massive surge in travel demand.
Flight frequencies on other international sectors have returned to near normal levels.
On July 5, a Cabinet meeting had allowed the resumption of passenger flights on international sectors based on the country's needs and travel demand. The government moved to resume flights following complaints about expensive air tickets in the international sector after a limited number of flights were permitted to some key destinations.
But services to Delhi, the busiest and most lucrative route out of Kathmandu, remain capped due to an air bubble arrangement between Nepal and India that allows one weekly flight in either direction.
"Seats are not available on the sector most of the time," said Shyam Raj Thapaliya, managing director of Osho World Nepal.
"As most of the embassies based in Kathmandu have started issuing visas from New Delhi, travellers have to go to the Indian capital to get their entry permits, resulting in a travel rush. Many Nepalis are also travelling to Delhi for medical treatment."
According to Osho Travel, seats on Air India are sold out for July 23. The cheapest ticket on the next flight on July 30 costs Rs48,500.
Air India operates the New Delhi-Kathmandu service every Friday. The normal charge for the 1 hour-15 minute hop is Rs9,000.
Nepal's flag carrier Nepal Airlines, which makes reciprocal flights to Delhi, operates services every Wednesday. Flights are sold out for July 21 and July 28 too.
The Nepal Airlines fare on the Kathmandu-Delhi sector is capped at Rs30,000.
An unnamed official of the airline said they had applied for a daily flight on the Kathmandu-Delhi sector in mid-March, when the second wave started in India.
With coronavirus cases surging in neighbouring India, Nepal was caught off guard. On April 29, the government announced the second lockdown. It restricted domestic flights from midnight of May 3 and international flights from midnight of May 6 as the second wave of Covid-19 gripped the country.
While all international scheduled flights connecting Kathmandu have been ordered to halt, the government decided to allow as many as two flights a week on the Kathmandu-Delhi sector. The two capitals have emerged as coronavirus hotspots.
"We are in the process of requesting more flights as demand has soared," said the Nepal Airlines official.
Air India officials in Nepal have been frequently requesting the Civil Aviation Authority of Nepal to allow daily flights.
"As demand has swelled, Air India has been requesting additional flights. But the decision to allow additional flights should be made by the government since Nepal and India flights are currently being operated under the air bubble arrangement," said Raj Kumar Chettri, spokesperson for the Civil Aviation Authority of Nepal.
In December last year, Nepal and India entered into an air bubble agreement, a dedicated flight service between the two countries following strict health and safety protocols set by the authorities of the respective countries.
Joint secretary at the Tourism Ministry Buddhi Sagar Lamichhane, who looks after aviation affairs, told the Post that India had formally requested to increase the frequencies last week due to growing demand and consequent supply gap.
"The government has allowed normal flight resumption in all sectors, but flights to India are capped," said Lamichhane. "We are holding discussions."
Tourism Ministry insiders said that Nepali government officials were reluctant to take risks by fully opening the Kathmandu-Delhi sector as a third wave was becoming a real possibility in India as shown by a rise in Delta variant cases.
"Based on the existing scenario, no one would take risks to make the decision to increase flights," said officials.
According to media reports, third wave risks are real even more now in India as economic activity has improved sequentially for the seventh successive week to July 12, with several states gradually easing curbs on movement.
India witnessed a consistent upward swing in daily Covid-19 cases with the caseload climbing up to 41,806 infections in Thursday as against 38,792 in Wednesday.
"A broad consensus is required, from health and other ministries, to resume normal flights on the Kathmandu-New Delhi sector," said Lamichhane.
Covid-19 cases in Nepal are also rising. On Friday, daily cases grew to 2,936 from 2,676 on Thursday. The countrywide death toll has now reached 9,506, according to the Health Ministry.