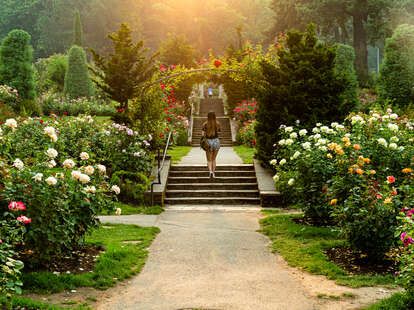 There's something about visiting an enormous, carefully cultivated garden that brings a sense of peace. More meticulous than the national parks of the world, and more robustly floral than even the best city parks, America's most stunning botanical gardens offer a chance to reconnect with nature—and yourself—amongst the blooms of the season.
Go for a stroll and glimpse a stirring intersection of natural goodness and manmade art, where statues, fountains, and architecture engage with stately trees, colorful blossoms, and all the fauna that come to enjoy these very special places. Breathe in the gorgeous scent of a rose garden, or indulge in some quiet contemplation amidst the streams and pagodas of a Japanese garden. Depending on which botanical paradise you've chosen to explore, you might find a wealth of cacti, an indoor conservatory flickering with butterflies, or even a valuable array of sculptures to admire. Best of all, these gardens exist all over the country, so you might even find one practically in your backyard.
Whether you need a screen break or simply wish to relax and enjoy the season, it's worth finding the nearest botanical garden for some serious wandering. We promise you won't regret it.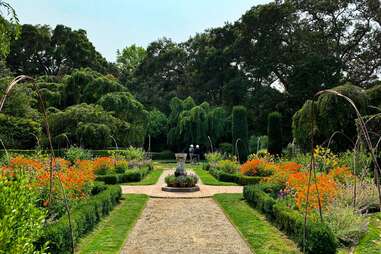 Bayside, California
Kicking off with the entry with the catchiest name, Filoli looks like something straight out of Bridgerton and feels a little bit like walking through a floral-scented dream. Tended to by 14 full-time horticulturists, this is an ideal place for those who want to pretend they're in a fairy tale.
Wander through the Walled Garden, featuring 10-foot-high brick walls and divided up further by hedges so that you can get your own personal taste of paradise; a working fruit and vegetable garden and pool pavilion; and—how convenient for you!—a 54,256-square-foot, 56-room, ballroom-equipped palace (aka The House) fit for royalty. By the time you're through, you'll be singing to birds and squirrels like a bonafide Disney princess.
Atlanta, Georgia
No, that's not Mother Nature in the flesh (or rather, in the florals) you're looking at here: it's the 25-foot Earth Goddess sculpture at Atlanta Botanical Garden. Although she's certainly one of the park's most impressive assets—not to mention most meticulously manicured, requiring daily maintenance to keep her foliage and more than 18,000 annuals looking immaculate—she's not the only thing here that'll keep you ooh-ing and ahh-ing.
There are indoor and outdoor displays featuring flora from all over the world, many species of carnivorous plants, more than 2,000 varieties of orchids, a diverse selection of magnolias, over 80 kinds of maples—you name it, and it's almost certainly here. There are also a score of events and exhibitions that run year-round, as well as garden-inspired classes that'll teach you everything from sketching and cooking to the art of origami.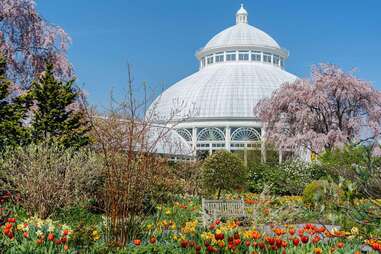 The Bronx, New York
Central Park will forever be the most renowned urban respite for perpetually cramped New Yorkers, but nothing relaxes a city dweller like a trip to the New York Botanical Garden. The park spans more than 250 acres, including 50 acres of preserved forestland and 50 gardens with more than a million species of plants.
It's also home to the Enid A. Haupt Conservatory, America's largest Victorian-era glasshouse, where guests can explore desert and tropical landscapes or glimpse the world's largest collection of indoor palm trees. The garden actually has a loftier purpose than simply being beautiful, though you'd hardly know it from looking; it educates some 90,000 underserved students a year and even boasts its own printing company.
St. Louis, Missouri
Englishman Henry Shaw had his flaws, but one thing he did right was create an American botanical garden in the style of the great ones of Europe and open it up to the public. He did so by developing the 75 acres that surrounded his country home, and the results remain stunning to this day.
The gardens include his historic house and a Victorian-era observatory, one of the largest Japanese gardens on the continent, and a Turkish garden reminiscent of a Mediterranean villa. Its centerpiece is the Climatron, a geodesic dome where you can experience climates from Hawaii, Arizona, and the coast of Italy all in a Midwestern winter's afternoon, before stepping back outside to meet blown-glass sculptures and 6,800 species of plants. If there's any reason why walking isn't for you, the garden even has a tram to help you see the sights.
Seattle, Washington
This 230-acre piece of parkland between Lake Washington and I-5 is worth visiting, even if you don't get out of your car (though really, we recommend that you do). The main road meandering through the park is lined with blooming trees in the spring, and stunning deciduous trees in the fall.
The scenic drive is just the warm-up, though. Step out of the car (just go ahead and do it!) and find yourself surrounded by meticulously landscaped gardens leading throughout the wetlands and woodlands—and the park's crown jewel, the Japanese Garden. It's the largest of its kind outside of Japan and home to the most impressive collection of cherry blossoms in the Pacific Northwest every spring.
Washington, DC
DC is more than just cherry blossoms. The idea of a garden on the National Mall was first floated by Thomas Jefferson, George Washington, and James Madison in the late 1700s. It was finally created in 1820, formally established in 1850, and has been situated in its current location since 1933. Unlike many others on this list, the US Botanic Garden only occupies a couple of city blocks, but it's still a serene and scenic respite in the shadow of the US Capitol.
In the garden, you'll also find a conservatory that contains desert and tropical environments, perfect for staying warm during the winter. In the springtime, the garden opens up its 34-greenhouse, 85,000-square-foot production facility in Anacostia (Southeast DC) so visitors can see the massive operation that supports the national garden. And because the founding fathers would've wanted it this way, the whole thing is free for visitors.
Koloa, Kauai, Hawaii
If you find yourself on the Hawaiian island of Kauai, the Allerton and Mcbryde Gardens deserve a long, lingering visit. These gardens in the Lawai Valley, which featured prominently in Jurassic Park and the fourth Pirates of the Caribbean flick, are the only tropical gardens established by congressional charter. They make up two-fifths of the National Tropical Botanical Garden, a federally established park that stretches throughout the Hawaiian Islands.
These two gardens sit on the south shore of Kauai, a former sugar plantation turned publicly accessible botanical collection. They're home to the largest collection of native Hawaiian plants on Earth and offer the only access to Allerton Beach. And in McBryde Garden, you can take a hidden trail to a seldom-seen waterfall.
Fort Worth, Texas
Dallas' sometimes overlooked sibling city is home to the oldest botanical garden in Texas. The 110-acre property has 22 gardens and 2,500 species of plants, and admission to the main garden is free.
That said, it's worth shelling out a few bucks to wander through the koi pools, stone bridges, and waterfalls of the Japanese garden, or to peep the tropical foliage in the conservancy. The Botanical Research Institute of Texas is located just next door and offers educational programs and rotating exhibits to teach visitors about what's in the gardens.
Gainesville, Florida
Located near Gainesville's University of Florida, the paths of Kanapaha Botanical Gardens wind through swamps with live oaks draped in Spanish moss, a rose garden, rock garden, and even butterfly gardens.
The park's two dozen collections include the state's largest collection of bamboos, the biggest herb garden in the Southeast, and ponds full of giant Victorian water lilies. At the park's edge, visitors can relax on a bench and enjoy sweeping views of 250-acre Lake Kanapaha.
Brooklyn, New York
While the New York Botanical Garden delivers Mother Nature to the Bronx, this century-plus-old, 52-acre botanical garden gives Brooklynites a seriously beautiful dose of greenery. Although it's home to one of the best cherry blossom displays on the Eastern Seaboard (which you should absolutely catch if you're in town during the bloom) this one wows just about any time of year, attracting more than a million annual visitors in the process.
The most popular section of this one by far is the Japanese Hill-and-Pond Garden, featuring a torii gate and a small Shinto shrine, but you'll also find a Native Flora Garden, a Rose Garden, a Shakespeare Garden, and more. In any case, there are 18,000 kinds of plants from all over the world here, so chances are you'll find a floral arrangement that suits your fancy.
San Francisco, California
It's no wonder that San Francisco, with its ever-shifting weather, has produced one of the most naturally biodiverse botanical gardens in the world. These 55-acre gardens in Golden Gate Park are home to 8,000 different kinds of plants, native to climates from all parts of the world.
High-elevation tropical gardens befitting equatorial mountains? Check. Native California redwoods? Of course. The most diverse collection of Magnolias outside China? Why not! And beyond the plant diversity, there's even a garden completely devoted to fragrant flowers and one designed for the purpose of moon gazing. Because it still is San Francisco, after all.
Canandaigua, New York
The Gilded Age mansion (named for the German translation of "sunny hill") is really the undercard to the main attraction at this New York State Historic Park. The meticulously landscaped grounds make up one of only two public gardens in the New York State Parks system.
Here, you'll be greeted by striking architecture sprinkled between more than a dozen gardens and greenhouses that offer up the sort of features one would expect in a garden five times the size, including a sublimely diverse rose garden man Italian garden full of blue and red perennials, and the Sub-Rosa Garden featuring a marble fountain, cherubim statues, and a deep pool. This nonprofit garden relies on donations, so don't forget to show your appreciation at the door.
Myrtle Beach, South Carolina
South Carolina's premier botanical garden might be the most educational in America. Not only is this place home to a vast array of Lowcountry vegetation, but it also boasts one of the most impressive collections of outdoor sculptures in America. These gardens are home to 1,440 works—550 of which are displayed at a given time—by 300 of the best sculptors the country has ever seen. Also, there's a zoo!
The E. Craig Wall, Jr. Lowcountry Center has educational programs on the history of the region, and, as an added bonus, a single admission is good for a week, meaning you can make it a daily visit in one of the 25 best beach cities in the US.
Richmond, Virginia
Clocking in at 50 acres of botanic excellence, the trails that winds through Richmond's own Lewis Ginter will take you through more than a dozen themed gardens, including a Healing Garden, a Rose Garden, a Cherry Tree Walk, and a Victorian Garden.
Strolling the lawns is always on the menu, as is doing a little shopping and stopping in at the Robins Tea House, where you can dine on light bites while overlooking the West Island Garden—but they've also got a solid list of seasonal events and rotating exhibitions running.
Columbus, Ohio
Ohio's state tree is the Ohio Buckeye—which is why it comes as no surprise that the Franklin Park Conservatory and Botanical Gardens houses a buckeye tree incubator. That's in addition to around 400 plant species ranging from tropical to Himalayan, of course.
Ohio's state tree aside, this park was also the first in America to have a seasonal butterfly exhibition, where for the past 20-plus years tropical butterflies have fluttered through the Pacific Island Water Garden. Franklin Park is also home to a Hot Shop where visitors can watch artists blow glass. And at night, the John F. Wolfe Palm House is lit up by 7,000 LED lights, creating an in-park explosion of color after dark.
Dallas, Texas
The DFW Metroplex boasts two of the best botanical gardens in America, the more famous of which is this 66-acre park that opened in 1984. The park and arboretum is home to 19 gardens—there's a magnolia glade, a pecan grove, even trial gardens where scientists see how various plants react to the North Texas environment. 
It's also home to the biggest spring flower festival in the Southwest with 500,000 blooms park-wide. And in the fall? The gardens are saturated with 50,000 pumpkins, a true sight to behold.
Coral Gables, Florida
Located far down Old Cutler Road from the steel and glass high-rises of Brickell, and across Biscayne Bay from the bright lights of South Beach, this 83-acre tropical oasis sits as a shady escape in Miami's coolest suburb. Here visitors can get a taste of what Miami was like before the swamps were dredged; mangrove gardens, pine rocklands, and palm savannahs dot the landscape, while flamingos huddle in the shallow lakes under the palms.
The collections here are impressive, to say the least. You can see 40 species of tropical birds at the Wings of the Tropics Conservancy, and another 450 species of rare plants in the 16,500-square-footTropical Plant Conservancy. While communing with nature might not be at the top of everyone's Miami to-do list, a trip here feels more tropical than almost anywhere in the city.
Phoenix, Arizona
This is a particularly fun one; botanical gardens don't actually need to be green and lush, so long as there are cacti involved. The folks at the Arizona Native Plant Society, who established this place in 1939, wanted to educate people about the unique plant and animal life of the Sonoran Desert, as well as the people who call it home.
The result is this 140-acre garden in Papago Park where five different walking loops take visitors through desert wildflowers, arid herb gardens, and lessons about how people have long lived in the desert. It boasts 50,000 plants throughout the five trails, and—if you go when it's not 110 degrees outside—it's a scenic, educational way to enjoy the warm Arizona sunshine.
Portland, Oregon
Though a rose garden isn't technically a botanical garden, it still has plenty of botanical goodness to offer. Portland is considered the Rose City, so it seems perfectly reasonable that it would be home to a place designated to test new varieties of roses, including one of only six gardens to test miniature roses. The place has plenty of quirks to offer; its individual rose plots have names like "Neil Diamond," "Prima Donna," and "Baby Boomer," and the Shakespeare Garden was originally intended to only include plant life mentioned in the Bard's plays.
The whole thing sits on just 4.5 terraced acres, most of which offer sweeping views of downtown Portland, the Willamette River, and—on clear days—Mount Hood. And if you haven't gotten your fill, the Rose Garden is located inside Portland's sprawling Washington Park, meaning you can stroll over to the city's lush Japanese Garden or hike through a patch of old-growth forest to the famous Hoyt Arboretum.
San Marino, California
At a sprawling 120 acres, LA County's Huntington is less a singular garden and more a Russian doll of landscape architecture spanning continents and climates. Here, you can stroll through an Alice in Wonderland-style interactive children's garden and a miniature rainforest, saunter over to a fully realized Chinese garden complete with waterfalls and noodle bar under a pagoda, and transition through a bamboo forest to emerge in a Japanese garden with a koi pond, zen gardens, and bonsai.
You can also zip down a path into a eucalyptus-spotted Australian garden en route to peaceful lily ponds that butt up against a sweeping desert garden and end up taking high tea in an English-style rose garden. There are even galleries displaying priceless art, ancient artifacts, a massive library, restaurants, wine bars, hidden sculptures, and more.
Kastalia Medrano was formerly Thrillist's Travel Writer.

Matt Meltzer was formerly a staff writer with Thrillist. Follow him on Instagram @meltrez1.
Tiana Attride contributed to the reporting of this story.