The latest effort by US lawmakers to allow commercial airline pilots to work until age 67 – rather than forcing them to retire at 65 – is drawing praise from airline industry groups.
In response to the 21 March reintroduction of the Let Experienced Pilots Fly Act, the Regional Airline Assocation (RAA) says it "applauds this crucial, bipartisan legislation raising the pilot retirement age to 67".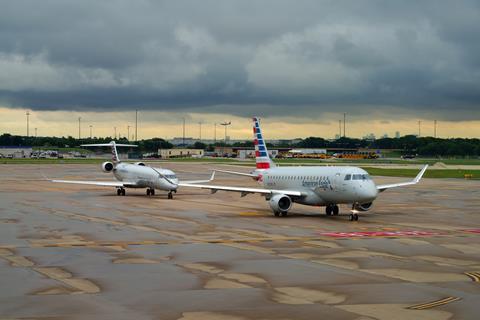 RAA has long cited the current pilot retirement age as an immediately-addressable factor to alleviate the industry-wide pilot shortage that is grounding aircraft and reducing air service to regional airports across the USA.
"While long-term policy solutions must continue to focus on pilot training and career access, short-term solutions are needed today to mitigate against further air service collapse," the RAA adds.
Sponsored by a group of lawmakers led by senator Lindsey Graham of South Carolina and senator Joe Manchin of West Virginia, the bill would require that pilots over the age of 65 possess a first-class medical certificate that must be renewed every six months. Graham's office says the law "does not change or alter any other qualification – beyond age – to become a commercial airline pilot".
"My legislation extends the mandatory retirement age two years and will make an immediate and appreciable difference keeping highly trained pilots on the job," Graham says. "The traveling public deserves better than what they are currently getting. Our bill moves the needle in the right direction to address the critical pilot shortage."
The US airline industry is short some 8,000 pilots, with regional airlines – where many pilots begin their careers before joining major carriers – feeling the affects most acutely.
The scarcity of flight crews has resulted in less or lost air service at 76% of US airports since October 2019, with small and rural communities experiencing the greatest losses, RAA says.
This is the second time US lawmakers have recently proposed hiking the mandatory retirement age for airline pilots. In July 2022, Graham and US representative Chip Roy introduced the first iteration of the Let Experienced Pilots Fly Act, which stalled after being referred to the Senate Committee on Commerce, Science and Transportation.
The National Air Carrier Association (NACA), a trade organisation which represents 17 cargo, charter and scheduled airlines, also supports the proposed age 67 retirement cap and urges Congress to enact the change as part of the FAA's next five-year reauthorisation bill.
"With more than 3,000 pilots taking early retirement packages during the Covid-19 pandemic, and an additional 12,000 pilots expected to retire over the next five years, this timely legislation will provide some near-term relief," NACA says.
As for longer-term solutions, NACA also calls for Congress to modernise flight-training requirements to provide additional credit for hours pilots spend on advanced simulators and making FAA-certified flight training expenses eligible for federal student loans.
Airlines also cite the US rule that commercial pilots must have 1,500h of flight time as a significant hindrance to the pipeline of pilots.
Pilot union Air Line Pilots Association, International (ALPA) did not comment on the bill's recent reintroduction but decried its first iteration in July 2022.
"ALPA strongly opposes this proposed legislation, as there is no reason to change the retirement age, and doing so would only increase costs for airlines and introduce unnecessary risks to passengers and crew," union president Joe DePete said at the time. "Some US airlines have clearly failed to plan for the industry's comeback."
The mandatory retirement age for pilots has not been raised in the US since 2007, when it was bumped from age 60 to age 65.