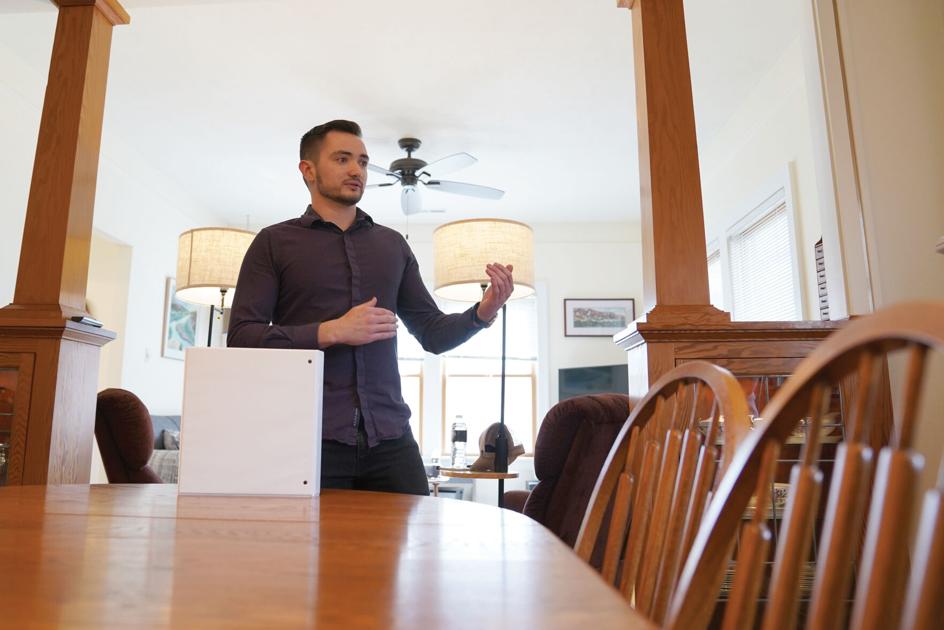 Short-term vacation rentals remain popular option | Local News
SHERIDAN — Whether a traveler or a property owner, chances are you've heard of the short-term vacation rental.
"In June 2021, statewide there was an 11% increase in the number of available listings compared to the prior June, and an occupancy rate of 71%," Piper Singer, public relations and media manager for the Wyoming Office of Tourism said.
Statistics show longer stays in larger units and properties were growing in popularity even before the pandemic hit. But overall, short-term rentals still only make up an estimated 4% of Wyoming's tracked accommodation inventory. Hotels make up the remainder, according to Singer.
There are 97 active short-term vacation rentals in the Sheridan area, and they are rented at the average daily rate of $136, according to AirDNA, which collects data on vacation rentals nationwide. 
The average annual occupancy rate is 67%. In July, those rentals are occupied at 90% and in February, 39%. Only a quarter are listed on VRBO, and 65% are listed on Airbnb. Rental growth has experienced a 38% quarterly growth since 2018, according to AirDNA.
In comparison, rental growth has stagnated in Denver, with 0% quarterly growth since 2018. The market may be saturated with 3,922 active rentals, although the annual occupancy rate is 81%. Similar to Sheridan, the average daily rate is $148.
As far as how these properties impact the local economy, guests who book Airbnb listings that are located in Wyoming are required to pay certain taxes. Those include the 4% Wyoming sales tax, a 5% Wyoming lodging tax, local sales taxes that vary by county and any local lodging taxes. However, some say companies like Airbnb can increase the cost of living and reduce the quality of life for existing residents by turning residential areas into de-facto hotels. Many communities restrict stays: Some states cap overnight rentals to 28 days if the property owner does not live in the home themselves. But regulations are not always the answer either, others say.
Enter the local manager, which, in Sheridan, is Concept BNB — Stays & Management, established in early 2020.
"Just over a year ago, we started a new brokerage," said Dalton Goodyear of Concept BNB, and also Concept Z Home and Property. "When I got licensed as a real estate agent, my background was with vacation rentals, AirBNB-type properties. I saw the industry going that direction, saw that it was picking up and wanted to find a way to bring value to local homeowners."
Building up one property at a time, Concept BNB now has properties in Dayton, Big Horn, Story and throughout Sheridan.
"There has definitely been an increase in demand," Goodyear said. "Sheridan's market really does intrigue me … there has been a spike, but I see it in waves. Sometimes it trends down, because it is a lot of work."
Managing a short-term rental takes time, and most Concept BNB owners began as traditional Wyoming real estate investors, buying a property with the intent of putting a year-round tenant in it. The responsibilities, then, are being on call in case something goes wrong, and ensuring the mortgage is paid.
"With short-term property rental, you could have interactions with your tenants and guests potentially every single day of the year," Goodyear said. "Our average stay is 3-5 days, but you have to come in and make sure when they rent it, it is spotless, and that when they leave, it is spotless."
Short-term vacation rental owners — or managers — have to ensure a seamless check-in process, make sure wi-fi is working, provide clean linens and soaps and an authentic experience.
"Our slogan is 'Escape, Experience, Lifestyle,' and that came about from doing a survey where we found, why do most people go on vacation, not just to Wyoming but anywhere?" Goodyear said. "They want to escape their job, their current lifestyle. Why would they choose a house over a hotel? They want the experience. 
"They want to know what it is like to live in Sheridan, Wyoming, or Story or Dayton. They want to feel a little more at home. And third, the lifestyle, is really for our owners, and the travelers, but mainly for our owners to enjoy the lifestyle of being an owner … own the property, making sure the mortgage is paid and we make them as much money as possible."
Concept BNB started, Goodyear said, because he loved the idea of following the data, creating partnerships with local businesses and capitalizing on the way people travel today. For a property owner, the process is simple, he said. He will evaluate potential homes for unique features, like a great view or perfect location, that could make them a successful vacation rental. After a series of steps, Concept BNB does a full launch on social media channels and Google, and will hang a sign outside the home, an old-fashioned but necessary touch that bridges the technology-to-real-world divide.
And even through the challenges of 2020, it has paid off.
"This summer, we've been really busy so far. We have been at 99% occupancy in our properties, at about 100% in June," Goodyear said. "It is awesome to see it coming back, and I am curious to see what next summer will look like."