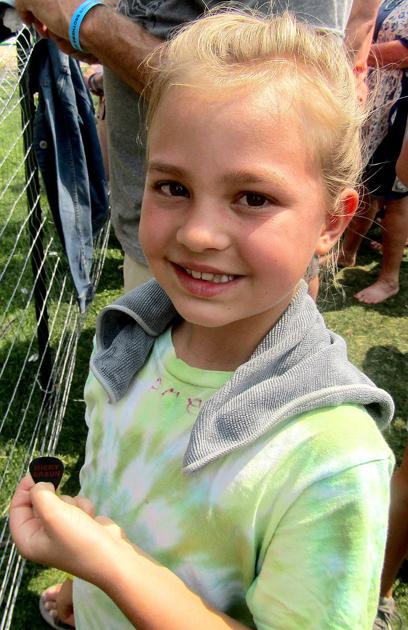 Family trip to BBR ends with surprise gift | Features
Emily Sexson, an eight-year-old from Smith Valley, Nevada, got a lot more than she bargained for at her first music festival, the 2021 Braun Brothers Reunion.
As Emily stood on pins and needles near the stage for the Braun clan to come out Saturday afternoon, her mom Jenifer recounted the journey to Challis. Before heading to the Challis Golf Course Thursday for the music festival, they stopped at the Land of the Yankee Fork State Park.
Emily and her older sister Malorie enjoyed the museum and film, according to their mom.
For food, the first-time Challis visitors stopped at the Tea Cup Cafe & Bakery, which Jenifer said they all enjoyed. Perhaps it was because they had worked up an appetite before arriving in Challis. Jenifer said they "had to get out and look around" at Craters of the Moon National Monument and Preserve. Next year when they return for the festival, the mom said she and her husband want to add a few days to check out the ghost towns near Challis.
As for the festival itself, Emily said it was "better than awesome." Immediately becoming a fan of Muzzie Braun, his brother Gary and his sons Micky, Cody, Willy and Gary, the young Sexson considered which of the performers she liked the most.
Between Micky and the Motorcars and Reckless Kelly, two bands the younger Brauns lead, Emily leaned toward the one fronted by Willy — Reckless Kelly. When Malorie joined her mom and sister in front of the stage to see Braun family members reunite in song, she said she was more of a Motorcars fan.
While the Sexson girls talked about the bands, Micky was on stage. As if sensing what the two girls had said, Micky might have taken a shot at influencing Emily's perspective. As he had done Friday night, Micky gave away one of his guitar picks to Emily. However, instead of recklessly tossing it to the crowd at large, he hand-delivered a pick bearing his name to the surprised girl.
While Micky sang with his family and other musicians, Emily kept the pick tight in her hand as she bobbed to the music. Eventually, she put it in her pocket for safekeeping.